October 2022 - The Governors have asked NYCC to consult on the closure of the school as there are no pupils on the role. The consultation will end on Monday 10th December 2022.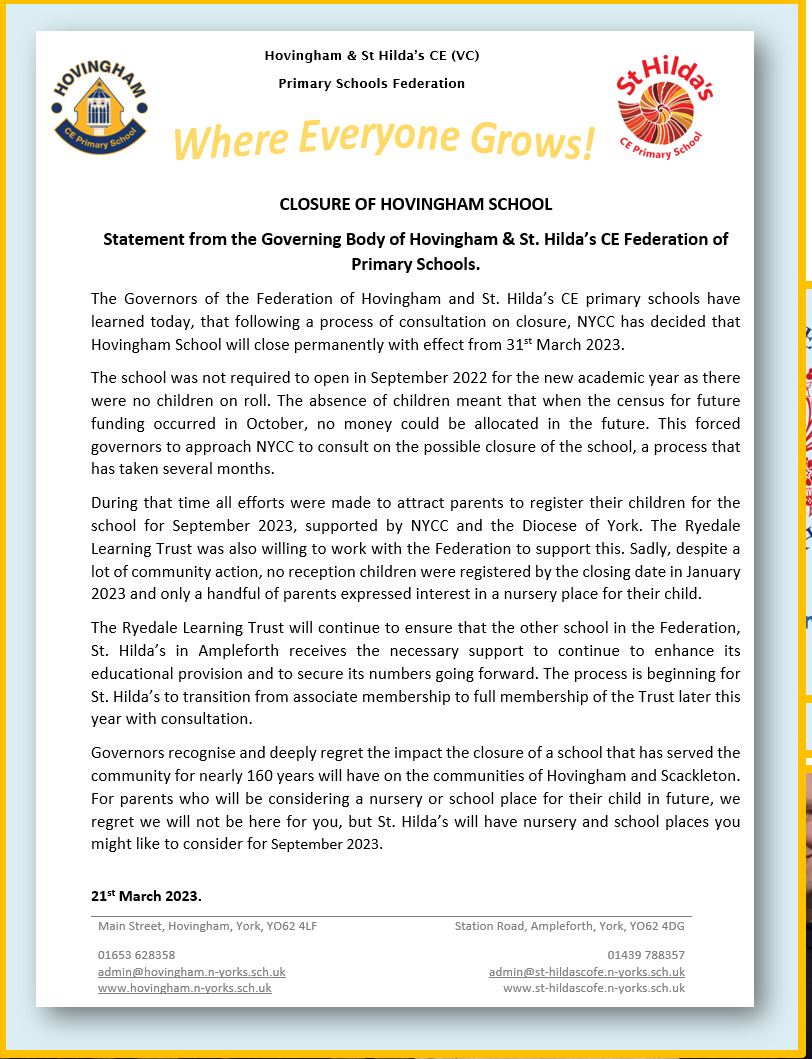 Hovingham Primary School is a Church of England school. Its ethos is Christian and has close links with the Parish Church of All Saints. It also develops an awareness of, and a respect for, other traditions and faiths, and children of all religious backgrounds, or none, are very welcome in our school.
The school provides good opportunities for spiritual, moral, social and cultural education. The teaching staff are dedicated and caring members of their profession. Their commitment to the individual needs of pupils and to the welfare of the school as a whole is especially evident and they are very well supported by the team of non-teaching staff. We work closely in partnership with parents so that, together, we can build a firm foundation for your children to grow and develop to their full potential.
The village community recognises Hovingham School as an established, core part of village life; something which we are very proud of. You are welcome to visit the school and to see for yourself the happy, productive atmosphere, which enables the children to grow in confidence and achieve so well.
On the 1st April 2015 the school became federated with St. Hilda's CEVC Primary School, Ampleforth. The head teacher is shared between the two schools, and a single Governing body oversees both schools. We collaborate very closely to provide extra social, educational and sporting opportunities for the children.
This information, and much more, is available on the website http://www.hovingham.n-yorks.sch.uk/
Secondary Schools in the area are;-
•Ryedale School - http://ryedaleschool.org/
•Malton School - http://www.maltonschool.org/
Lady Lumley's School - http://www.ladylumleys.n-yorks.sch.uk is outside Hovingham catchment area but is included here for information.
For Independent schools see http://www.indschools.co.uk/