Hovingham Playground is a child's paradise. Hidden away at the extremities of Hovingham village, in an extremely wonderful location you will find a well kept adventure playground with equipment for toddlers to teens. It also includes picnic tables, benches and a covered shelter, so all the family can enjoy themselves. Especially in school holidays the playground is very popular with families from far and wide.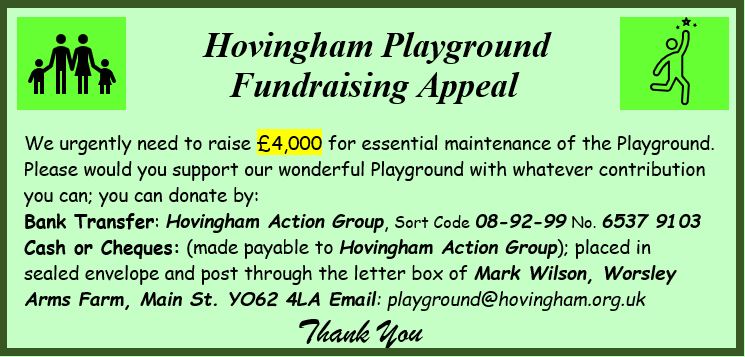 The Playground Group oversees the facilities and hope all visitors will have an enjoyable time in the playground, but ask that the equipment is used wisely. The group cannot be held responsible for any accidents and also request visitors to leave everything neat and tidy, a litter bin is provided outside the gate.
Dogs of course are not allowed inside the playground as they represent a major health (and injury hazard). This is mainly because of the Toxocarra egg which dog's deposit and can cause blindness in children. There is a dog hook and water bowl outside the gate for those who bring a dog along with them.
Visitors using cars are requested to park considerately as this is a private road and vehicles can, and do, block farm and house access, as well as causing difficulties for those attending funerals in the adjacent cemetery. Notices have been erected reflecting this as vehicles are left, not only by playground users, but also by walkers, runners and those visiting the cemetery. There is ample parking at the village hall car park.
Weekly checks are carried out to ensure the equipment is in good condition and any issues rectified. Along with day to day maintenance, such as grass and hedge cutting, there is a continual need for funds to sustain the well being of the grounds and equipment.
The playground lies on Hovingham Estate land and is privately run by Hovingham Action Group with help from village volunteers. Sponsorship is provided by The Hovingham Village Market and the Parish Council; however the playground receives no public funding and funds have to be raised during the year to cover all maintenance costs.
The Playground Group appreciate all donations, large or small, to help with the preservation of this wonderful activity centre. Also welcomed are new volunteers to help with the organisation of activities and fundraising. If YOU can help please get in touch. We can be contacted via email at action@hovingham.org.uk